Access Depositions Using ORCiD
03/26
We are pleased to announce that contact authors can now use ORCiDs to authenticate OneDep access. This authentication method allows each contact author to login to OneDep without the need for password sharing to view and access all their depositions.
OneDep login using a deposition ID and password is still possible, but will only provide access to the specific deposition.
Using ORCiD with OneDep returns a summary table of the entries in which the ORCiD has been provided for the contact author. Users can further access each of their entries' deposition interfaces without the need to login again using a deposition ID or password.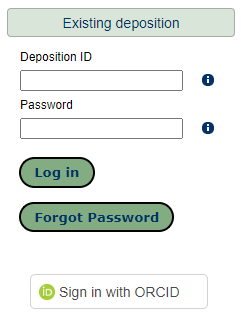 The ORCiD sign-in button is located below the existing login fields.
First-time OneDep contact authors will need to verify their email address before being able to create new depositions, similar to creating a new deposition without being logged-in with ORCiD.
Please be aware that adding a contact author ORCiD in the "Admin > Contact information" OneDep page will grant this author access to the current deposition.
Providing ORCiDs for OneDep contact authors has been mandatory since 2018.