February 4 is World Cancer Day
02/02
Cells in our bodies are carefully regulated so that they divide, grow, and die according to the best plan for keeping us alive. When they lose these controls, they can grow into deadly cancers. Atomic structures have revealed how cell growth is normally controlled, and how cancer cells circumvent these essential controls.
PDB-101 hosts a variety of related educational materials, including Molecule of the Month features, articles, and more.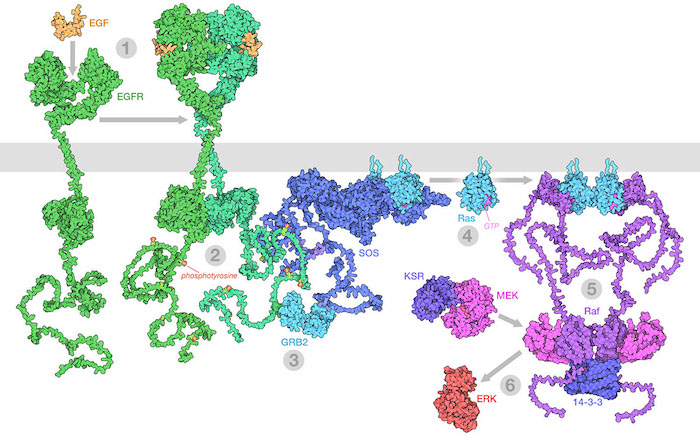 The Raf/MEK/ERK (MAPK) pathway is one of the ways that growth signals are disseminated inside the cell. 1) Epidermal growth factor (EGF) binds to its receptor (EGFR), causing it to dimerize. 2) The catalytic domains of EGFR phosphorylate tyrosines on the long unstructured EGFR tails. 3) GRB2 recognizes the phosphorylated tyrosines and recruits SOS. 4) SOS replaces GDP with GTP in Ras proteins. 5) The activated Ras forms nanoclusters that activate Raf, with the help of 14-3-3 protein. 6) Raf phosphorylates MEK, which is normally held in an inactive complex with KSR. Active MEK then phosphorylates ERK, a kinase that will activate many processes throughout the cell. Illustration created from decades of structural studies in PDB IDS 1egf, 1nql, 1m17, 2jwa, 3njp, 2gs6, 1gri, 1xd2, 3ksy, 5p21, 6xi7, 6q0j, 2y4i, 1pme, and unstructured chains from AlphaFold2.